Level 4 Sports Massage Therapy
Level 4 Sports Massage Therapy
Level 4 Sports Massage Therapy
The Active IQ Level 4 Certificate in Sports Massage Therapy qualification enables a progressive route for advanced Sports Massage Therapists to improve their skillset. Whilst studying this qualification you will learn about different postures, injuries and dysfunctions such as lower crossed syndrome, tendonitis and disc herniations. Along with this you will also learn techniques in how to conduct subjective and objective assessments across 9 different joints in the body. The aim of the Level 4 Certificate in Sports Massage Therapy qualification is to provide students with the knowledge and skills to treat and/or seek to correct common patterns of dysfunction and suitable pre-diagnosed injuries. The skills and knowledge that you will acquire on this course will make you more employable as a practitioner and help differentiate your business.

You must already hold the Level 3 Diploma in Sports Massage Therapy qualification

Location: Premier World Fitness, Leeds

You can now spread the cost of your course over 2 - 5 years with our finance options! See our Payment Information tab for more details.


Payment Options: Direct debit or full payment
2 Months
£1200 FUNDING AVAILABLE
Course Information
The purpose of this level 4 qualification is to progress therapist's understanding of advanced anatomical, physiological and pathological principles to aid the application of Sports Massage. It will provide learners with advanced palpation skills and those needed to analyse posture and range of movement. It will also provide practitioners with a range of advanced skills and massage techniques to prevent and manage injury for their clients.
Over the duration of this qualification you will be able to:
Understand the clinical procedures for client assessment and treatment planning.
Conduct objective physical assessments.
Understand the purpose of neuromuscular and tissue mobilisation techniques in sports massage and the skills to be able to apply effective neuromuscular and tissue mobilisation techniques.
Utilise soft tissue techniques appropriate to specific clients.
Understand treatment modalities to support soft tissue repair.
You will be developing your skillset as a sports massage therapist by learning the following techniques:
Soft Tissue Release (STR)
Neuromuscular Tiggerpoints (NMT)
Muscular Energy Techniques (MET)
Orthopaedic Testing
In-depth Kinesiology
Advanced Anatomy & Physiology
In depth knowledge of soft tissue injuries
Once qualified, a level 4 Sports Massage Therapist may be self-employed or an employed therapist in professional sporting arenas, gyms, private clinics, existing businesses and many other environments.
Course Structure
4x Bi-weekly weekends
During your first weekend you will be given an introduction to your course and you will be handed your course materials. You will undergo teaching and learning of the human anatomy, pathology of common injuries. You will also be taken through a variety of joint assessment techniques and shown how to practically apply them.
The next 3 bi-weekly weekends that will consist in the teaching of practical joint assessment techniques and massage therapies. You will also be shown how to complete professional advanced objective and subjective assessments with clients. Over these weekends you will be completing your own case studies and building your portfolio or work through a series of observations.
Homestudy
When you're attending the classroom based course we want to make sure that you get as much hands on experience and practice as possible. So that being said, there will be an element of home study during this course. This is where you will be completing assignments and course work to help build your portfolio of evidence.
Course Units
Your qualification will be governed through Active IQ. This will be an internationally recognised qualification and will allow you provide level 4 sports massage therapy techniques to a range of clients.
The units that you will be completing are:
Unit 1 – Conducting subjective and objective assessment – worksheets & observations
Unit 2 – Provide sports massage techniques to prevent and manage injury – worksheets & observations
Unit 3 – Treatment modalities to support soft tissue repair – worksheets
Payment Information
We have a number of options of how you can pay for this course. If you would like to book onto the course through our website, you have the following 2 options:
Option 1: £1200 full payment
Option 2: £120 deposit and 12 monthly payments of £90 at 0% interest. (Direct debit will be set up once the deposit has been paid).
We now offer payment plans over longer terms (from 2 – 5 years). If you would like to spread the costs over a longer period, you can apply for finance through our partner Ideal4Finance. It's a quick and easy process where you get a decision in 60 seconds! Example payment structures are below:
Option 3: No deposit, £41.62 a month +APR for 24 months
Option 4: No deposit, £27.75 a month +APR for 36 months
Option 5: No deposit, £20.81 a month +APR for 48 months
Option 6: No deposit, £16.65 a month +APR for 60 months
To apply for finance, you can do so by clicking on the image below. If successful, you will receive the loan amount from the lender and then book yourself onto the course either through our website or over the phone. If you would like assistance or more information, please feel free to call one of our course advisors on 01132 866453.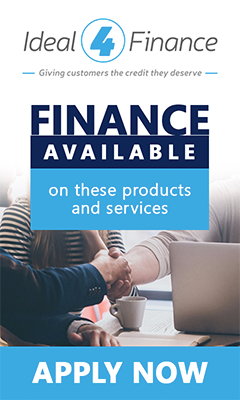 Apply for an Advanced Learner Loan
To begin your application for an advanced learner loan, simply email Graham@velocity-pt.co.uk with the following details:
Full Name
Location
Course of Interest
How you would like to study your course (Online/Classroom)
From there we will then begin the application process with you for your desired course and also, most importantly, you can start studying.
Alternatively, feel free to call our head office on 01132 866453 and press ext 1 to speak to a course advisor.