Level 3 Personal Trainer
Level 3 Personal Trainer
This qualification is aimed at students who already hold a level 2 Fitness Instructor certificate and wanting to progress their career into becoming a Personal Trainer. This qualification is the main progressive path that has proved popular with most level 2 Fitness Instructors who want to pursue a career in Personal Training.

Location: Premier World Fitness, Leeds

You can now spread the cost of your course over 2 - 5 years with our finance options! See our Payment Information tab for more details.


Payment Options: Finance, Funding or Full Payment
1 - 3 months
£1200 FUNDING AVAILABLE
Course Information
This course offers to expand the knowledge of any current level 2 Fitness Instructors. You will cover a variety of units from planning progressive programs for clients to learning about nutrition and the affects of this for exercising with clients.
You will also further your knowledge in anatomy and physiology to level 3 standard and also learn how to conduct effective consultations with clients. You will then learn to develop specific tailored progressive exercise programs for a client.
Once this qualification has been completed you will then be able train clients on a 1-1 basis. You will also hold the Active IQ certificate in Personal Training which is a REP's recognised qualification.
Course Stucture
This course would be completed over 4 weekends at one of our Part-Time locations that we have available. See course dates dropdown for our latest courses!
The course will be delivered in a classroom environment with the use of the fully commercial on site gym.
You will be given course materials free of charge and also you will have exam re-sits at no extra charge.
Course Units
This is an Internationally recognised qualification awarded through Active IQ who are governed by Skills Active. The units that you will be undertaking are:
Unit 1 – Know how to support clients who take part in exercise and physical activity – Worksheets
Unit 2 – Health, safety and welfare in a fitness environment – Worksheets
Unit 3 – Principles of exercise, fitness and health – Multi choice theory exam
Unit 4 – Anatomy and physiology for exercise and health – Multi choice theory exam
Unit 5 – Programming personal training with clients – Client case study
Unit 6 – Delivering personal training sessions – Practical observation
Unit 7 – Applying the principles of nutrition to a physical activity program – Multi choice theory exam
*Units 1,2 and 3 can be achieved by completing the Level 2 Fitness Instructor course
Payment Information
We have a number of options of how you can pay for this course. If you would like to book onto the course through our website, you have the following 2 options:
Option 1: £1200 full payment
Option 2: £120 deposit and 12 monthly payments of £90 at 0% interest. (Direct debit will be set up once the deposit has been paid).
We now offer payment plans over longer terms (from 2 – 5 years). If you would like to spread the costs over a longer period, you can apply for finance through our partner Ideal4Finance. It's a quick and easy process where you get a decision in 60 seconds! Example payment structures are below:
Option 3: No deposit, £41.62 a month +APR for 24 months
Option 4: No deposit, £27.75 a month +APR for 36 months
Option 5: No deposit, £20.81 a month +APR for 48 months
Option 6: No deposit, £16.65 a month +APR for 60 months
To apply for finance, you can do so by clicking on the image below. If successful, you will receive the loan amount from the lender and then book yourself onto the course either through our website or over the phone. If you would like assistance or more information, please feel free to call one of our course advisors on 01132 866453.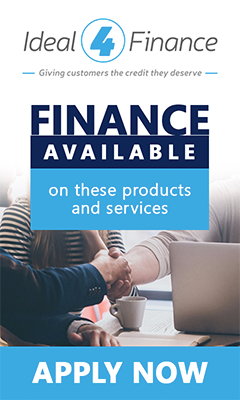 Apply for an Advanced Learner Loan
To begin your application for an advanced learner loan, simply email Graham@velocity-pt.co.uk with the following details:
Full Name
Location
Course of Interest
How you would like to study your course (Online/Classroom)
From there we will then begin the application process with you for your desired course and also, most importantly, you can start studying.
Alternatively, feel free to call our head office on 01132 866453 and press ext 1 to speak to a course advisor.