Level 3 Sports Massage Therapy
Level 3 Sports Massage Therapy
Level 3 Sports Massage Therapy
The Active IQ Level 3 Diploma in Sports Massage Therapy (QCF) provides learners with a combination of knowledge and skills to be recognised as a qualified sports massage therapist. The qualification is suitable for individuals who wish to pursue or further a career in sports massage, providing sports massage therapy to a wide range of clients, inclusive of sports performers, athletes and individuals suffering from day to day problems such as repetitive strain injury, sprains, tension and fatigue.

You can now spread the cost of your course over 2 - 5 years with our finance options! See our Payment Information tab for more details.


Payment Options: Finance, Funding or Full Payment
3 Months (Average)
£1200 FUNDING AVAILABLE
Course Information
The level 3 Diploma in Sports Massage Therapy qualification is suitable to learners that are looking to develop the skills that will help them register with the Sports Therapy Organisation (STO). On this course you will learn the Anatomy & Physiology of the human body in relation to sports massage, the principles of soft tissue dysfunction and soft tissue repair, along with practical skills of massage techniques such as:
Effleurage
Petrissage
Tapotement
Positional variations
In-depth Anatomy & Physiology
Pre-event massage
Inter-event massage
Post-event massage
Comprehensive Rehabilitation advice
Client after care advise
40 hour client log
Once qualified, a Sports Massage Therapist may be self-employed or an employed therapist in professional sporting arenas, gyms, private clinics, existing businesses and many other environments.
Course Structure
E-learning course structure:
Total length of time – 3 months
Online learning
From receiving your online login details you will be given a designated online tutor. You will be set work and given guidance on which online units to complete and what work you would need to complete in preparation for your practical attendance days. The practical days will be booked on registration to the course and are mandatory to pass the qualification.
2 Midweek Practical Days
Once the online learning is completed and you have completed your coursework, you will then attend your practical teaching days. Here you will be taught the practical skills required in order to successfully be able to complete client consultations, posture assessments and deliver practical massage techniques.
1 Assessment Day
During this assessment day you will be completing and creating a portfolio of work. This will include completing client analyses and delivering sports massage techniques to clients with appropriate injuries.
Course Units
Your qualification will be governed through Active IQ. This will be an internationally recognised qualification and will allow you provide sports massage therapy to a range of clients who have dysfunctional tissue, without acute/post acute injuries or underlying pathological conditions.
The units that you will be completing are:
Unit 1: Anatomy and Physiology for Sports Massage – Worksheets/Multi choice theory exam
Unit 2: Principles of Health and Fitness – Worksheets
Unit 3: Understand the Principles of Soft Tissue Dysfunction – Worksheets
Unit 4: Professional Practice in Sports Massage – Worksheets
Unit 5: Sports Massage Treatments – Practical observations
How To Select Your Dates
Unsure of how to select your dates?
When purchasing a course through our website, you will need to select specific assessment/attendance dates. Firstly, you would need to select which course you would like to attend whether it being an online course or a part-time course. Then what location you would like to attend (If applicable).
Online course assessment days
To select your dates for an online course, you will need to select a row of dates from the dropdown menu. You will find 5 separate course dates such as August 14th, 15t, September 13th
Within the example above, you will be attending your Sports Massage practical teaching days on 14th and 15th August. You would then have ample time to then practice your techniques on case study clients prior to your assessment day on 13th September.
These days can be amended once you have booked your course with your online tutor.
If you have any questions in regards to the assessment/attendance days please feel free to call one of our course advisors on 01132 866453 or alternatively email info@velocity-pt.co.uk
Payment Information
We have a number of options of how you can pay for this course. If you would like to book onto the course through our website, you have the following 2 options:
Option 1: £1200 full payment
Option 2: £120 deposit and 12 monthly payments of £90 at 0% interest. (Direct debit will be set up once the deposit has been paid).
We now offer payment plans over longer terms (from 2 – 5 years). If you would like to spread the costs over a longer period, you can apply for finance through our partner Ideal4Finance. It's a quick and easy process where you get a decision in 60 seconds! Example payment structures are below:
Option 3: No deposit, £41.62 a month +APR for 24 months
Option 4: No deposit, £27.75 a month +APR for 36 months
Option 5: No deposit, £20.81 a month +APR for 48 months
Option 6: No deposit, £16.65 a month +APR for 60 months
To apply for finance, you can do so by clicking on the image below. If successful, you will receive the loan amount from the lender and then book yourself onto the course either through our website or over the phone. If you would like assistance or more information, please feel free to call one of our course advisors on 01132 866453.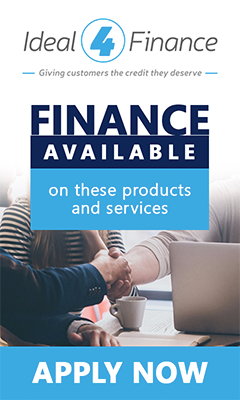 Apply for an Advanced Learner Loan
To begin your application for an advanced learner loan, simply email Graham@velocity-pt.co.uk with the following details:
Full Name
Location
Course of Interest
How you would like to study your course (Online/Classroom)
From there we will then begin the application process with you for your desired course and also, most importantly, you can start studying.
Alternatively, feel free to call our head office on 01132 866453 and press ext 1 to speak to a course advisor.